University of California, Los Angeles School of Law (UCLA Law) and Sonke Gender Justice Network (Sonke) announce the launch of the UCLA Law – Sonke Health & Human Rights Fellowship. Commencing in August 2018, the programme will provide specialised training to top graduates from South African law schools for careers as impact-oriented public interest lawyers in the areas of health, human rights, HIV prevention, and gender equality.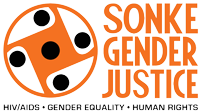 Details of the Fellowship
The fellowship offers a full-tuition grant to enroll in UCLA Law's Master of Law Program (LL.M.), assists fellows in securing living and travel expenses for their studies, and offers the opportunity to apply for a one-year fellowship placement with Sonke's Policy Development and Advocacy unit in Cape Town.
Fellows will enroll in UCLA Law's David J. Epstein Program in Public Interest Law and Policy (PILP), and through its workshop and seminars, will meet PILP students and faculty and study the problem-solving challenges faced in public interest legal practice. Fellows will examine the principal skills and conceptual approaches useful to public interest lawyers in the PILP seminar, Problem Solving in the Public Interest.
Through the course, Human Rights and Sexual Politics, fellows will interact with students from medicine and public health, and conduct legal research and advocacy for Sonke. Each UCLA Law – Sonke Health & Human Rights Fellow will also elect other related courses and author a substantial writing assignment on a health, human rights, and/or gender equality-related legal issue facing South Africa.
To prepare for American legal study, fellows will take a summer introductory course, American Law in a Global Context, and will be able to access ongoing tutoring through its existing student support programmes.
Upon completion of the LL.M. degree, each fellow will have the opportunity to apply for a yearlong fellowship placement with Sonke in South Africa. If awarded, the fellow will undertake cutting edge law and policy research addressing the gender inequality dynamics driving the spread of HIV, and examine how to engage women, men, girls and boys as stakeholders for gender and health equity.
For more detailed information about the fellowship, please download the brochure.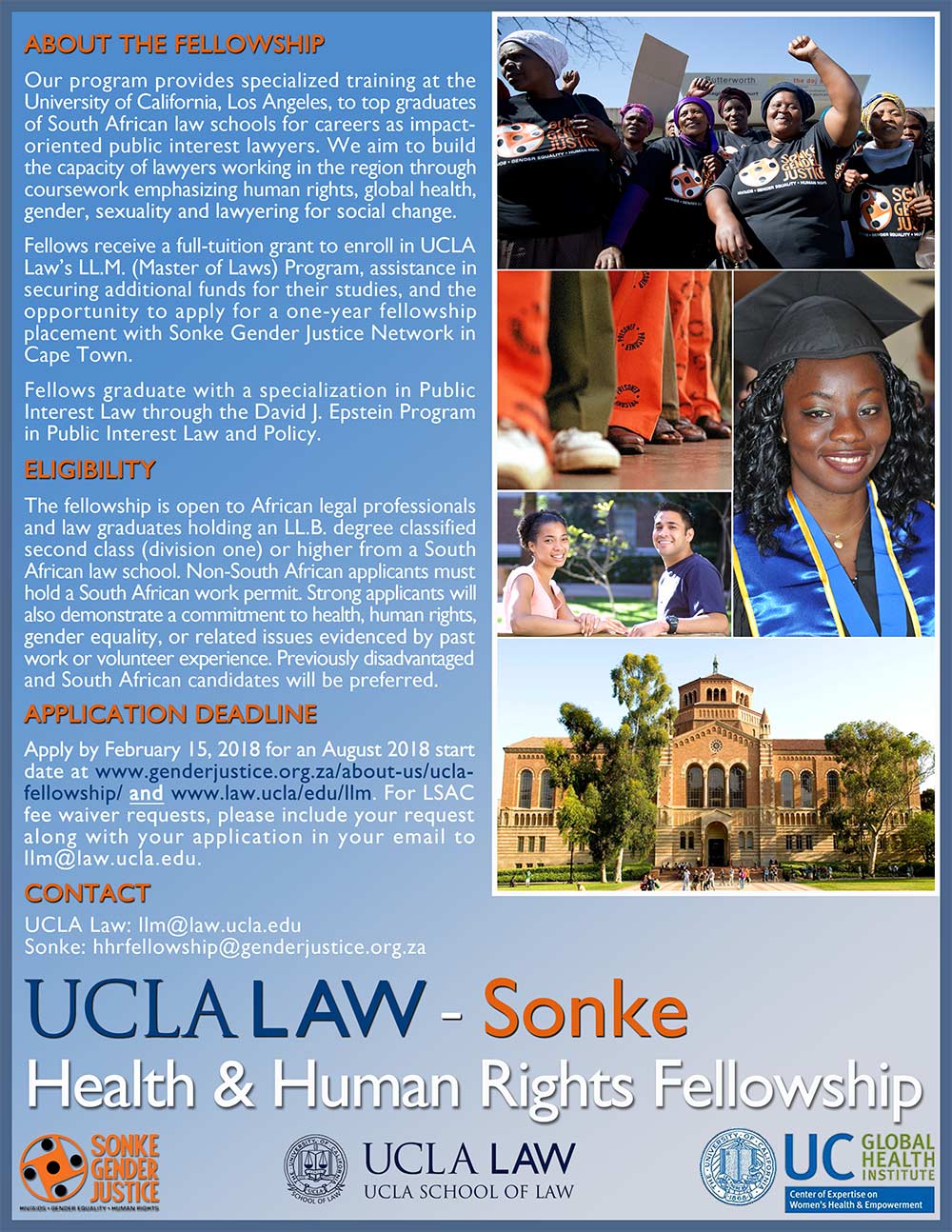 Eligibility & Award Conditions
The fellowship is open to African legal professionals and law graduates holding an LL.B. degree classified second class (division one) or higher from a South African law school. Strong applicants will also demonstrate a commitment to health, human rights, gender equality or related issues, evidenced by past work or volunteer experience. Note that non-South Africans must also hold a South African work permit. Previously disadvantaged and South African candidates will be preferred.
As a condition of the award, fellows will be asked to certify that they will return to South Africa upon completion of their LL.M. degree, and commit to a public interest career that promotes health, human rights, and gender equality in the African region.
Application Information
Applicants must complete both the online application for UCLA Law's LL.M. programme and the supplemental application to Sonke Gender Justice for the UCLA Law – Sonke Health & Human Rights Fellowship. The application fee for UCLA Law is $85, but applicants may apply to UCLA Law for a fee waiver.
UCLA Law's LL.M. online application is at www.law.ucla.edu/llm.
Please download the fellowship application form.
The due date for the online application for UCLA Law's LL.M. programme and the fellowship application form is February 15, 2018.
Please direct questions about the fellowship to hhrfellowship@genderjustice.org.za, and questions about UCLA Law's online LL.M. application procedure or fee waiver to llm@law.ucla.edu.
Project Partners and Leadership
UCLA School of Law is the youngest top law school in the U.S., has pioneered innovative specialisations and cutting-edge research centers, and has long been committed to skills training courses that offer students hands-on lawyering experience as they master legal doctrine.
Sonke Gender Justice is recognised internationally for its pioneering work that supports men, women and children to promote gender equality, prevent gender-based violence, and reduce the spread and impact of HIV and AIDS across Africa.
Leadership
The UCLA Law – Sonke Health & Human Rights Fellowship will be co-directed by Lara Stemple, Director of Graduate Studies at UCLA School of Law, and by Dean Peacock, Executive Director and Bafana Khumalo, International Programmes Manager, at Sonke Gender Justice Network.
Lara Stemple is the Director of Graduate Studies at UCLA School of Law, where she oversees the law school's LL.M. (masters) and S.J.D. (doctoral) degree programmes. Stemple teaches and writes in the areas of human rights, global health, gender, sexuality, HIV and AIDS, and incarceration. Stemple currently serves on the Board of Directors of Just Detention International, the Advisory Board of UCLA's Center for the Study of Women, and she is part of the Leadership Core for the new UC Global Health Institute's Center of Expertise on Women's Health and Empowerment.
Dean Peacock is co-founder and Executive Director of the Sonke Gender Justice Network. Peacock's work and activism over the last twenty years has focused on issues related to men, constructions of masculinities, health, and social justice. He is a member of the United Nations Secretary General's Network of Men Leaders formed to advise Ban Ki-Moon on prevention of gender-based violence, is a research analyst at the Program in Global Health at the UCLA David Geffen School of Medicine, and is co-founder of the MenEngage Alliance.
Bafana Khumalo is co-founder and International Programmes Manager of the Sonke Gender Justice Network, and Africa Coordinator for the MenEngage Alliance. Prior to joining Sonke, Khumalo was appointed by President Mbeki and Parliament as a Commissioner at the National Commission for Gender Equality from 2000-06, and 2007-11. He was also Executive Director of the Lutheran Communion in Southern Africa. Active in the anti-apartheid struggle, Khumalo worked with the Soweto Civic Association and participated in the peace accords.