The 21st International AIDS Conference took place in Durban from 18 – 22 July 2016. Sixteen years on from the AIDS conference held in the same city in 2000 in which Nelson Mandela called on all to, "break the silence, banish stigma and discrimination, and ensure total inclusiveness within the struggle against AIDS," thankfully much has changed. There are currently over 3 million people now on life saving antiretroviral treatment, an accomplishment described by Section27's Mark Heywood in the Daily Maverick as, "unprecedented in the history of any medicine."
But the fight is far from over. We have not answered Madiba's call to banish stigma and discrimination and we remain far from, "total inclusiveness" in the fight against the epidemic. According to UNAIDS 36.7 million people are living with HIV and worryingly, new HIV infections among adults have stalled, failing to decline for at least five years and in some regions is on the increase.
Sonke attended the AIDS conference joining the call for increased focus on key populations and aimed to shine a spotlight on the urgent need to engage men and boys in the fight against the epidemic.
Here are some of the key takeaways from the conference:
1. LGBTQI RIGHTS ARE HUMAN RIGHTS
The pre-conference sessions represented a diversity of scientific, technical and community interests. One such session entitled Queer Voices of Faith saw Sonke's Director of Strategic Partnerships, Bafana Khumalo on a panel of religious leaders exploring the link between faith and HIV where important questions on religion, accountability and acceptance were tackled.
Tough questions were posed during the session about the challenges of integrating spirituality and sexuality:
And hard-hitting issues were raised, such as the fact that while South Africa's constitution enshrines human rights for all, the reality on the ground remains very different.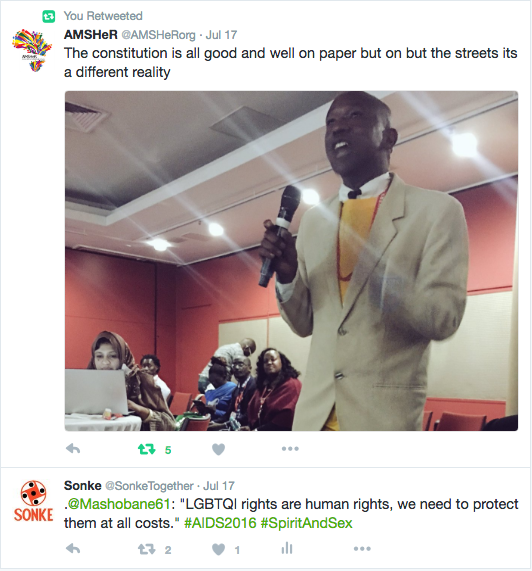 Khumalo summed up the session when he said: "LGBTQI rights are human rights, we need to protect them at all costs."
 2. DONORS ARE NEEDED FOR MORE THAN THEIR MONEY
"Sixteen years ago HIV was real. We were all committed. But now things have changed. This is mostly because funding for AIDS has dwindled. To what extent can civil society organisations make donors listen and recommit to funding the AIDS response?" That was the observation made by Itumeleng Komanyane, manager of Sonke Gender Justice's International Programmes and Networks unit, which co-ordinates the MenEngage Africa alliance work on gender justice across the Africa region. She was speaking during a lunchtime panel discussion dubbed "A candid conversation between donors and activists committed to social justice", which was organised by the Ford Foundation and it aimed to answer the question: "How do power dynamics between international funders and local activists impact our ability to achieve social justice?"
Komanyane's observation resonated with other panellists representing the civil society movement. "In any partnership the key is to listen. It's important for funders to listen to communities and to allow them to move the agenda. We need funders to be facilitators of vision. But, funders are also targets for advocacy efforts. We need them for more than their money", said Kene Esom, Executive Director of African Men for Sexual and Health Rights (AMSHeR).
Qondisa Ngwenya, chairperson of the Treatment Action Campaign (TAC), which played a crucial role in influencing the South African government to implement what is now regarded as the world's largest AIDS treatment programme lamented the dwindling support by international funders. "In the early days the TAC had great support from the donor community. But something changed along the way, including socio-economic factors, and that led to donors pulling out of funding the TAC," he said. "The TAC has now been reduced to being funded per project. We are a project-based funder organisation. Yet people are still dying every day. We want to be funded as an organisation, not per project. Furthermore, funders have requirements that curtail our ability to be an advocacy organisation. They have reporting requirements that turn us into bureaucrats that sit behind our desks pushing paper in order to meet their monitoring expectations. Because of this we cease being activists, as these expectations impact on our ability to raise our voices higher to fight for justice for our people", added Ngwenya.
His sentiments were echoed by AMSHeR. "On this issue of accountability… If we are truly partners, the demand for accountability has to go both ways… We need to have a conversation about how the stringent requirements on monitoring and evaluation are hampering the quality of the work we do in communities. We also need conversation on how project-based funding is affecting our work", said Esom.
In acknowledging the concerns raised by civil society, Darren Walker, president of the Ford Foundation, called the relationship between donors and activists "dysfunctional". Walker said: "Donors have power and there is a lack of listening that has characterised the relationship. It's essential that we have these conversations and we have to own up to the fact that we've done some things wrong. We have been arrogant and smug in our own beliefs. For this relationship to work, it requires a degree of humility from our side. We have to approach the work in a different way. We need to have a degree of humility and openness to hearing what civil society wants."
3. TACKLING INTIMATE PARTNER VIOLENCE MEANS TALKING TO MEN
Intimate Partner Violence (IPV) and rape are acts perpetrated by men said experts in a session entitled Implementing Effective Programmes to Prevent IPV. And addressing this fact holds part of the key to seeing a real reduction in IPV. Issues such as men's childhoods, emotional neglect and abuse experiences are most strongly associated with perpetration and the focus therefore needs to be on factors such as men's mental health, male antisocial peer group activity, male sexual entitlement and demonstration of heterosexuality through multiple sexual partners, amongst others. Panelist Dr Kristen Dunkle, Senior Specialist Scientist from What Works said, "If we don't get men on board, we don't get anywhere."
Sonke's Dumisani Rebombo presented on an important intervention he is leading in Diepsloot, Johannesburg where a randomised control trial is currently being conducted targeting 1350 men. Rebombo noted that a shocking 48.9% of these men said they were engaging in IPV. Workshops, campaigns as well as sports activities such as street soccer are being used as tools to target the high level of gender based violence in the community. The aim is to see a decrease in intimate partner violence and non-partner violence by providing measures to improve men's mental health, improve their communication with partners and offer practical tools to reduce alcohol intake in the community, said Rebombo.
4. DECRIMINALISING SEX WORK IS CRUCIAL
South African-born actress Charlize Theron attended the AIDS conference, delivering a passionate opening ceremony speech during which she said: "It's time to face the truth about the unjust world we live in, the truth is we have every tool we need to prevent the spread of HIV… let's ask ourselves why haven't we beaten this epidemic. Could it be because we don't want to?" During a walkabout, Theron visited the Sex Workers booth, giving her support to the call for decriminalisation of sex workers, one of the key population groups that need to be targeted in the fight against HIV and AIDS.
The Deputy-Minister of Social Development, Hendrietta Bogopane-Zulu recognised the importance of the issue when she co-chaired a session entitled South Africa's National Sex Worker HIV Plan: are you coming? Along with sex worker advocate Kholi Buthelezi from the Sisonke National Sex Worker movement.  Wearing the trademark decriminalisation of sex t-shirt popularised by the Sex Worker Education & Advocacy Taskforce (SWEAT) and Sisonke National Sex worker Movement, Bogopane-Zulu noted that sex workers should be treated as equals.
Sally-Jean Shackleton a representative from SWEAT wanted to know why law reform on sex work has taken more than 16 years and noted that sex workers and sex worker advocates are tired of promises, and want action.
Sex worker activists marched to the session calling for urgent attention to sex worker human rights and law reform. While outside the hall, activists erected installations depicting a dusty desk with papers entitled "This space is reserved for work on SA Sex work legislation, established 1997".
A cage was erected where members of the public would spend some time if 'police' found condoms on them at the conference.  The latter was to draw attention to the abusive police practice of "condoms as evidence" where police, upon finding condoms on an alleged sex worker, takes this 'evidence' as paid sex having taken place.
Later in the week, a dynamic session on sex worker's rights with Sonke's Policy Development and Advocacy Manager, Marlise Richter on the panel took place while Doctors for Life, an NGO with a pro-life agenda, picketed outside.
During the session Buthelezi emphasised why decriminalisation of sex workers was such an important issue: "We're not calling for decriminalisation because we enjoy selling sex – if I can't access medication, if I'm arrested Friday and released Monday I've already defaulted on my medication." She continued: "We don't need diversion programmes – we were sober minded when we chose this profession – all we need is advocacy funding so we can access the services you are providing."
5. TO GET TO ZERO WE ALSO NEED TO GET TO MEN
Experts on a high-level panel discussion on the second official day of the conference agreed that if we are to reach our goal of ending AIDS by 2030, men and boys need to be engaged. AIDS mortality among men is nearly 40% higher than women in Africa and this needs to be urgently addressed.
During this session, UNAIDS Deputy Executive Director Luiz Loures launched the Platform for Male Engagement in the HIV Response. The document provides guidance on how to engage men and boys in the gender equality movement and to improve their access to, and utilisation of, HIV and other health services for their own health needs and broader health and development.
Speaking during the session, Bafana Khumalo Director of Strategic Partnerships for Sonke Gender Justice said: "We need to have open conversations about sexual and reproductive health and rights with religious and community leaders and to scale up community programmes to address gender inequality and gender based violence." The document is a culmination of a broad global consultation convened by UNAIDS, the International Planned Parenthood Federation and Sonke Gender Justice with governments, civil society and United Nations and development partners.
Sonke's Communications Associate, Khopotso Bodibe spoke to Dr Chewe Luo Associate Director of UNICEF, Khanya Mabuza, Executive Director, National Emergency Response Council on HIV and AIDS Swaziland, Bafana Khumalo, Director of Strategic Partnerships, Sonke Gender Justice and Sophia Mukasa Moniko UNAIDS HIV and Gender Equality Advisor to find out how we can reach men and boys in the fight against the AIDS epidemic.
Listen to the interviews here.
While the need to reach men has been clearly identified, reaching them when existing HIV programming rarely considers males – and health services rarely target men and boys, is a challenge. This issue is being addressed by Kwakha Indvodza a member of MenEngage Swaziland, which works with a network of civil society organisations to engage men and boys for gender transformation. Kwakha Indvodza Executive Director, Tom Churchyard, says "if this situation is left unattended and gender-blind programming continues as it currently does, it will seriously affect both men and women negatively, and it will reverse the gains made in HIV prevention."
"Efforts to curb HIV are thwarted by limited efforts to meaningfully engage men and boys to change their health-seeking behaviours. There must be concerted efforts to develop campaigns that are specifically tailored to address the health needs of men and boys", adds Mzingaye Sibanda, Programmes Manager for Kwakha Indvodza.
Read more about the important work being done by Kwakha Indvodza here.
6. SPORT IS AN IMPORTANT TOOL FOR HIV TREATMENT AND LITERACY
The Global Village at the AIDS conference offered spaces for dialogue, networking, booths for NGOs to display materials and share their work as well as art exhibitions and performances. It was here that Sonke presented an interactive workshop on using sport to increase HIV literacy. A small but active group joined in the educational fun, using a game of catch to understand where HIV lives in the body and how it attacks the immune system. A discussion afterwards offered opportunities for deeper understanding of HIV prevention.
 7. LITIGATION CAN BE AN EFFECTIVE TOOL IN THE HIV RESPONSE
Is litigation an effective advocacy tool in addressing structural drivers of HIV in prisons? This question was posed by Sonke's National Prison's Specialist, Ariane Nevin in a poster she presented at the conference on Sonke's work on HIV and TB in prisons. Nevin answered this question by focusing on the extreme overcrowding in Pollsmoor prison in Cape Town. See the full poster below:
8. FOR CHANGE TO BE SUSTAINABLE WE HAVE TO ENGAGE THE YOUTH
A high school in the northern part of Nyanga, Zimbabwe would not allow its female students to wear trousers. But within three months of the launch of the gender transformation project, Changing the River's Flow this discriminatory policy was overturned – a small but important victory and evidence of the change occurring as a result of the SafAIDS, Sonke Gender Justice and Embassy of Sweden project being led by Sonke's Regional Programmes and Network Unit Manager, Itumeleng Komanyane.
During the project's launch Sonke's Director of Strategic Partnerships Bafana Khumalo stressed the importance of working with youth, particularly in a traditionally patriarchal society such as Zimbabwe saying, "We need to look at the underpinnings of what drives the thinking of Zimbabwean society. We need to work with young people. Perhaps you may not be able to change Robert Mugabe on his attitudes on LGBTQI communities – but you can look at those who are still to come."
The question of changing the flow of entrenched societal norms was a focus with Khumalo asking: "How do we work with those who inform these norms? Harmful, negative norms are perpetuated on a daily basis. Teachers saying to girls – clean the toilets, scrub the floors – the boys are told to go and play football – this sends the message about role differentiation. It reinforces the challenges."
Khumalo noted too the need to engage with traditional leaders, "Once you transform that leader to a point where he says, 'come to my village', that is sustainable because you have a champion."
He continued: "If we want to change the river tide and break the flow against gender norms and HIV we need to do more of these interventions."
"This shows African men do change and are invested in changing because it's good for them, their children and their partners," he said.