Over time, Sonke has become increasingly aware of the need to sustain a presence in communities after particular projects or initiatives have been completed. It was with this in mind that we started our first One Man Can branch in Khayelitsha last year. We are now engaging in a drive to establish other branches in different parts of the country.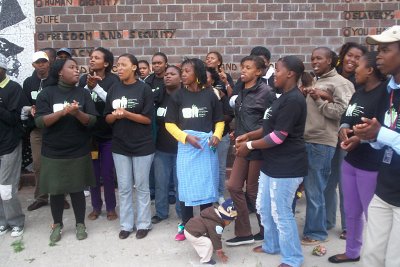 This process is being spearheaded by research conducted by intern, Lindy Hlazo, which is informing our strategy on how to establish networks for community advocacy and activism. The initiative also aims to identify the particular strengths of a branch setup which can help sustain existing projects and support community stakeholders to advance the work that we are doing.
Already, it is clear that the existence of a branch in Kuyasa (Khayelitsha) has enabled peer educators in the TOP project to be more active and sustain their efforts.
This pilot branch consist of men and young boys willing to work and engage their community in addressing challenges being faced. They have been joined by a number of women who are equally keen to take a stand, especially on rape cases and xenophobic attacks on migrants and refugees.
A recent rape case in the area has resulted in the mobilisation of the branch, and the survivor has received immense support, particularly at the court hearings where Sonke staff and the branch members have publically opposed bail and advocated for the case to be thoroughly investigated.
Sonke is aiming to create 33 One Man Can branches in South Africa by 2012 in order to mobilise and support men and boys to proactively initiate and participate in One Man Can and Brothers for Life activities in their own communities. In this work, Sonke will be building on existing networks of volunteers and Community Action Team members to build interest in working to address gender-based violence, violence against women and children, human rights, and the reduction and impact of HIV and Aids.
Branches will enable community members to take ownership of One Man Can programmes and activities in their local communities.
Sonke staff members will continue to conduct monitoring work and providing technical support on how community members can sustain and conduct activities at the community level through local based stakeholder networks.
The branch model will enable us to reach more men in different communities, more effectively, thus helping us mobilise more men and boys to promote gender equality and reduce the spread of and impact of HIV and Aids in South Africa.