South Africa's criminal justice system has a number of institutional checks and balances, designed to monitor and ensure optimal operation of the system as a whole. Oversight bodies perform a crucial part of these checks and balances by assessing, investigating and taking action on complaints; monitoring the performance of criminal justice actors; and providing a transparent mechanism whereby criminal justice performance can be held to account.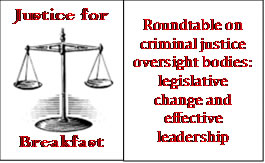 2011 saw key legislative change for two crucial criminal justice oversight bodies: the Independent Police Investigative Directorate (IPID) and Civilian Secretariat of the South African Police Service (hereafter the Secretariat). In comparison, the Judicial Inspectorate for Correctional Services (JICS) lags behind on crucial legislative issues, including financial independence from the Department of Correctional Services.
However, legislative change is a single building block which requires effective leadership to build a strong oversight body capable of fulfilling its mandate. At this roundtable we will begin the conversation on whether the legislative changes for IPID and the Secretariat can be used as a best practice model for addressing some of JICS' institutional challenges; and how the criminal justice sector can best support leadership appointments and decisions at these oversight bodies, to promote effective oversight within the criminal justice system.
You are invited, along with senior representatives from the legal fraternity, the Department of Correctional Services, the SAPS, the prosecutorial corps, academics, members of development aid institutions, and civil society to:
Justice for Breakfast
A roundtable co-hosted by the Wits Justice Project and the Crime, Policing and Criminal Justice Programme at Wits P&DM
Date: Wednesday, 5 June 2013
Time: Breakfast will be served from 8.00. The programme will run until 10.30
Venue: Wits P&DM, Mwalimu House Research Hub, 2 St David's Place, Parktown
Please confirm your attendance, by 1 June 2013, with Thandiwe Mlangeni on Thandiwe.Mlangeni@wits.ac.za or 011 717 3505.
We look forward to welcoming you to what we anticipate will be a worthwhile and frank sharing of ideas.
Catherine Moat
Project Head: Crime, Policing and Criminal Justice Programme
Graduate School for Public and Development Management
011 717 3902
Nooshin Erfani-Ghadimi
Project Coordinator: Wits Justice Project
Department of Journalism
011 717 4077