MenEngage Network – eSwatini joined many civil society organisations and activists to observe the last 16 Days of Activism for No Violence against Women and Children. The network hosted a number of activities to educate and sensitise targeted audiences about gender-based violence and its damaging consequences. Here are some of the activities the network engaged in:
1. Campus Chats
In collaboration with MenEngage Network – eSwatini, Kwakha Indvodza – The Male Mentoring Organisation, the network hosted a round-table discussion at Ngwane Teachers College in Nhlangano, the fourth largest town of eSwatini, in the southern district of Shiselweni.
The panel comprised of a peer educator from the college, a law enforcement official and a gender activist.
The discussion sensitised students on how to identify gender-based violence on campus and beyond, with a focus on the newly enacted Sexual Offences and Domestic Violence (SODV) Act 2018. Topics centred on the causes of violence, common types of violence experienced on campus and how to address them, encouraging students to report any form of violence they experience or witness around them on campus and other settings.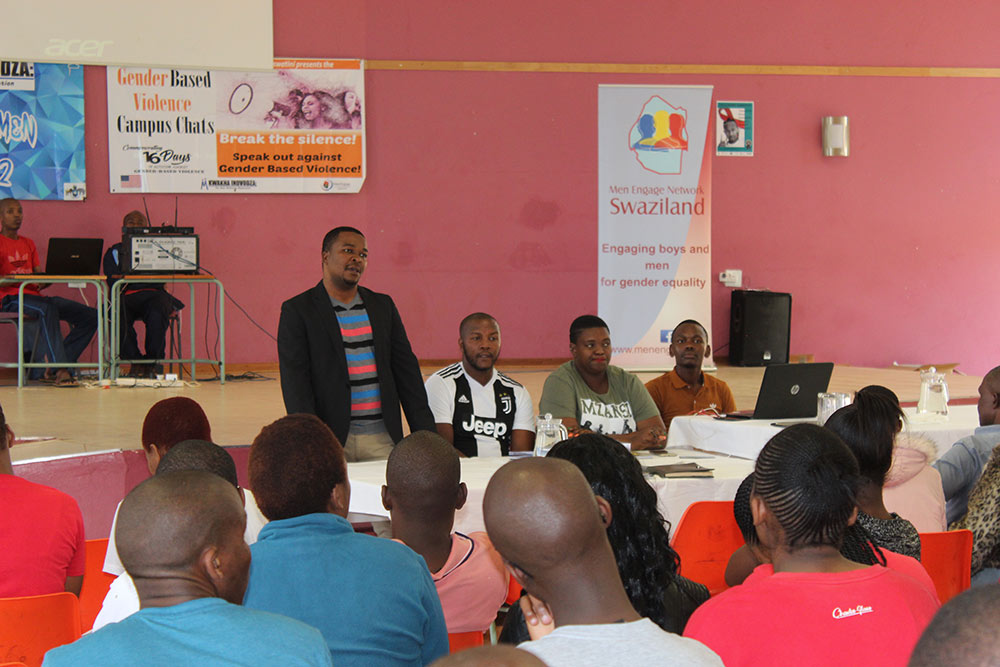 2. GBV Advocacy Campaign by partners
MenEngage Network eSwatini partnered with other partners, Men without Borders and Diabetes Swaziland, to conduct dialogues in several communities within eSwatini.
In all the dialogues, it was noted that the public were keen to learn about the recently enacted Sexual Offences and Domestic Violence Act 2018. They recommended that the network should organise more of such gatherings, as they found them helpful and informative.
Participants also noted that the battle against violence and abuse can be won if grass-roots communities are targeted with information so that they can understand that violence should be the norm.
Many said that people in rural communities are more prone to violence, which they rarely report. They said poverty has forced some families to make a living through sex in exchange for money to be able to buy food and other necessities.
Others commented that members of society are used to seeing abuse and have normalised abuse in their communities and, therefore, there is a need to sensitise one another in order to reduce and find lasting solutions to combat it.
3. Capacity building workshop for Faith Leaders.
In collaboration with Church Forum, MenEngage Network – eSwatini hosted a capacity building workshop for faith leaders, who are predominantly male. The aim of the workshop was to capacitate them and engage them on issues of men pertaining to HIV, Gender-Based Violence, Sexual Harassment, and Sexual & Reproductive Health Rights.
The Scriptural basis of the training was the story of the rape of Tamar, which is found in the Book of 2 Samuel 13: 1–22.
Issues that were discussed emanating from that story included incest, the issue of the perpetrator's remorse, cultural influence and counselling being key to the victim.
Participants also raised concerns that people in power within the Church tend to break the law and use their power to defend themselves. Sexual violence is experienced in churches and such cases are not reported as victims believe they have to be faithful and submit to the church leader/pastor.
Faith leaders present stated that the Church is a holy place, but it's full of imperfect people, hence it is not spared from any kind of violence. However, the status quo cannot continue. It must be challenged, dealt with and rooted out.