HUMAN RIGHTS
This inspiring film tells the story of Amanya Faith Betega, who leads the Prevention+ program in the rural district of Bushenyi, Uganda. Faith works with young people and local leaders, especially religious leaders, to promote gender equality and violence prevention. For readers of this newsletter attending CSW2018 in New York, 'The Journey of Faith' will be screened on Friday 16 March from 10:30 to 11:30, during the session, Gender Transformative Community Mobilisation to prevent GBV in the Hardin Room, 11th Floor of the Church Centre for the United Nations. Faith herself will be in attendance. We hope to see you there!
WOMEN & WATER
"What I don't understand is how come some people have water and others don't." While Day Zero for Capetonians has officially been pushed back, for many South Africans, lack of access to water is the norm. For the women of Bloekombos in Kraaifontein, Cape Town, for example, Day Zero has already arrived, write Nabeelah Mia and Ruben Wynne in the Daily Maverick.
HUMAN RIGHTS
Speaking to Salima
The Commission on the Status of Women (CSW), currently underway in New York, explores the empowerment of rural women and girls. In this article, Sonke's Mabel Sengendo Nabaggala tells the story of Salima*, who after undergoing female genital mutilation at 14 years of age, was forced into marriage to an older woman in a traditional practice called "nyumba ntobhu" (house of women). Mabel explains why she hopes that this year's CSW will speak directly to rural women like Salima – and in so doing make a real difference in their lives.
During the #CSW2018 session on 15 March 2018: Implementing the CSW Resolution 60/2 on Women, the Girl Child and HIV, Sonke's Co-Founder and Co-Executive Director, Dean Peacock directly addressed South Africa's newly appointed Minister of Women, Bathabile Dlamini.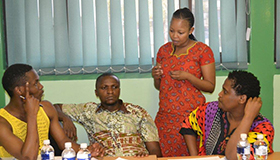 This external evaluation focuses on three core courses: Women's Health and Empowerment – MenEngage Africa Training Initiative, The University of Pretoria / Sonke Advanced Human Rights Course and the University of California Los Angeles School of Law and Sonke Fellowship Programme.
"It's reversing a lot of the gains we've made in our democratic process," says Sonke's Senior Strategic Advisor, Bafana Khumalo in this Channel Africa interview in response to the recent reclassification of the South African film, 'Inxeba'.
The Central Methodist Mission is one of the first religious institutions in South Africa to publicly support the decriminalisation of sex work. Sonke and partners attended the banner unveiling.
THE GUARDIAN
"While Dave's violence is inexcusable, his story also gives me some hope. It shows that men can change. Even men who've already done terrible things."
GROUNDUP
"Refugees, such as Mbaya Mukendi from the DRC, say they are anxiously waiting for Home Affairs to open the office as ordered by the court."
IOL
"There is no question that incidents of racism and racial discrimination are all too frequent in our society and we are confident that the Bill, once passed, will contribute to eradicating not only racism, but all forms of discrimination, in our country."