Queenstown to Cofimvaba
Total Distance: 1444km
I have already covered 1444km on this journey and I am am just a quarter of the way through. Finding and photographing 4 people in one day, at their rural homes has turned out to be a lot harder than I thought. Every morning I seem to convince myself that today is the day when people will live near to the road and are easy to find. It hasn't worked out that way just yet but I continue to believe that tomorrow will be easier.
There is a real sense of community in all of the villages that we have visited. It is amazing that you can just pull over on the side of the road and mention a surname and someone will know where they live. They may be half an hour away down a series of non-existent paths and dirt roads but even the kids can point you in the right general direction.
It makes me think about the long journey that the miners would have taken, walking to the main road and then taking a series of taxis and busses overnight just to return to their hard labour and cramped living conditions.
---
The Miners
No. 11
Kenneth Nqose, 57 years old, lives in Lower Woodhouse in Cofimvaba. He has been married to Nonuseko for 30 years and they have 3 children. He was diagnosed with TB & silicosis in 1997 and spent 2 months in the mine hospital. During this time he was retrenched and given R18,000 (approx. £850) as a retrenchment package. He was given no compensation for his occupational illness and was sent home where he had to pay his own medical bills.
Mr Nqose was working away for the birth of each of his children. Nonuseko would write him a letter to inform him about the new child. The baby would then stay unnamed until she received a letter back after several months giving his chosen name for the child.
---
No. 2
Patrick Sitwayi lives in Upper Mcambalala with his wife, five children and 3 grand children. He is 57 years old and has silicosis from working underground in the gold mines for 22 years. He did not receive any compensation for his illness and is unable to support his family without a job.
He has to walk with crutches because his toes became infected and had to be amputated. He says that this is because of the primitive safety equipment and hot working conditions on the mines. The problems were caused by him sweating into his plastic gumboots.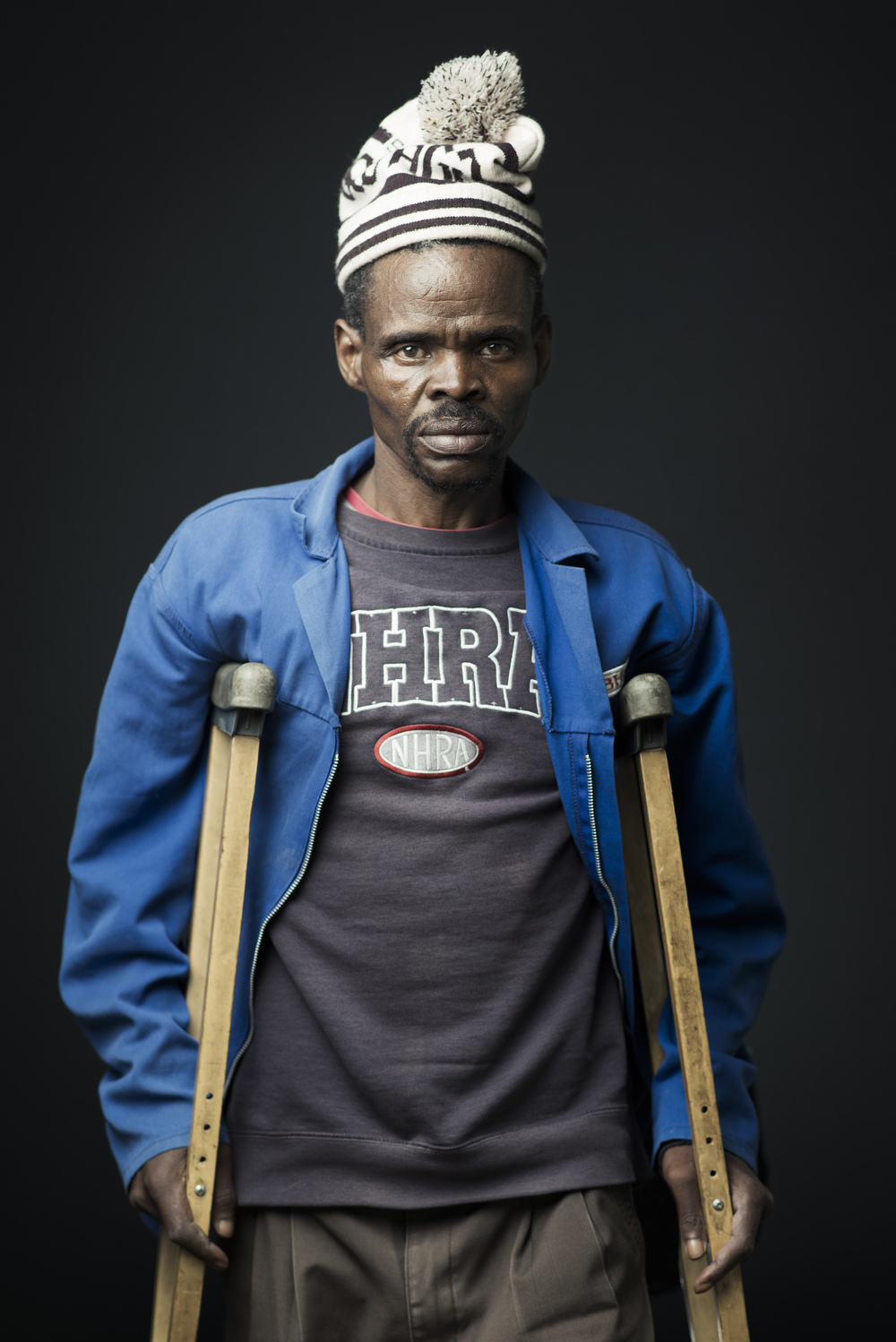 ---
No. 13
Zolisa Jejana, 56, was diagnosed with Pulmonary TB after he had left his job on the gold mines. He was retrenched in 1989 due to his participation in a 3 day strike where 59 miners stayed underground for 3 days. They were earning R1000 a month (approx. £50) and were demanding a wage increase. All 59 miners were retrenched.
Mr Jejana received no compensation for his illness and now tries to pick up casual work as a bricklayer. With the small amount of work he can get he needs to support his wife and 6 children.
---
No. 14
Xolisile Butu is 60 years old and lives in Skhobeni with his 86 year old mother Adelaide. His wife works in Komani and earns the money for the household, she only comes home once a month. He was diagnosed with pulmonary TB in 1992 after working on the mines for 7 years. He received R1000 (approx. £50 or $72) in compensation.
Xolisile told me about the problems between Xhosas and Zulus on the mines. The fights got so bad that the police would be called and would break them up using teargas. After a while they started to live in separate dorm rooms.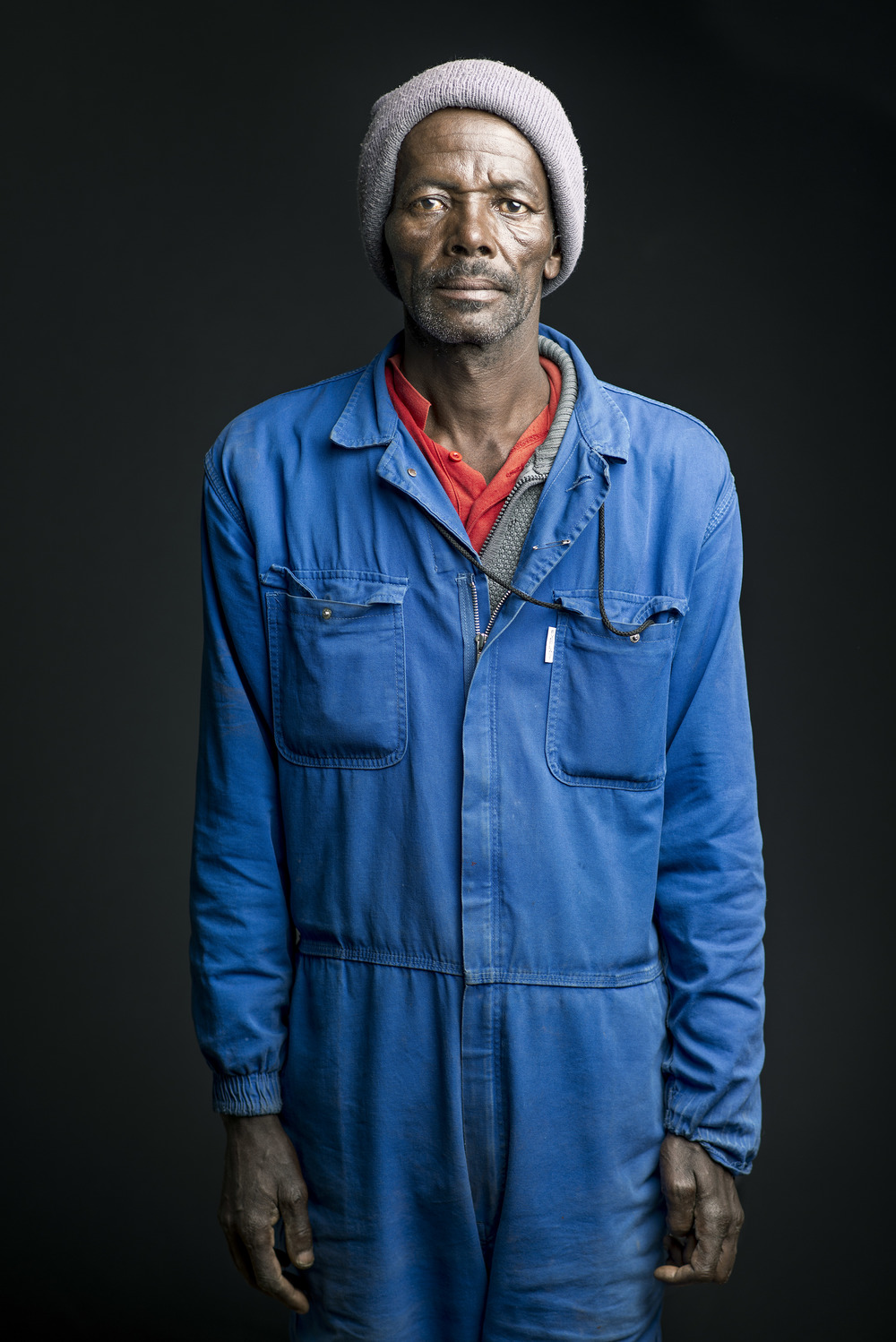 ---
Extras
It was too good an opportunity to miss, I managed to grab a quick portrait of Adelaide Butu before we left. One light and a green wall can provide pretty good tools for an off the cuff, last minute portrait.