Meet the Men Disrupting the Manhood Narrative
Our world is full of dominant narratives and one of the most pervasive – and often damaging – is what it means to be a father. Many of us grow up to believe that a father's place is outside the house; he is the breadwinner. A father must not show emotion. He should not show his partner or child love in public. A father does not need to be present at the birth of his son or daughter. He does not need to bond with his children from a young age – he leaves this to the child's mother as he believes she is better suited to this work. In turn, this narrative tells mothers that their place is in the home, it tells mothers that they have special intuition about children, intuition, which men don't have. It tells both men and women that they should not question these differences. And when their differences twist and mutate in the form of gender-based violence, it tells them to accept this too.
The MenCare+ programme, developed from the tenets of the MenCare campaign in 2013, is implemented by partner and global co-coordinator, Sonke Gender Justice, with the aim of tackling these suffocating stereotypes that can lead to gender-based violence and other forms of abuse. The programme runs in and around Cape Town, South Africa and focuses on men, fatherhood, and gender equality. Based on the Program P methodology, the purpose of theMenCare+ training programme is to promote gender equality by transforming harmful gender attitudes and improving men's care-giving and fatherhood skills. The target population is mostly fathers, but at times mothers and other caregivers also join. The programme consists of 12 sessions in which participants discuss and share their experiences related to care-giving, fatherhood, gender roles, sexual and reproductive health, family planning, non-violent parenting, and more. In these discussions, trainers encourage the participants to become actively involved in raising their children, supporting their partners, and sharing the work at home.
The powerful stories below belong to brave men of Manenberg, Saldanha Bay, and other communities in South Africa who have been a part of the MenCare+ programme in those areas from 2013 to 2015. Their stories of change – filled with pain, hope and joy seek to disrupt and rewrite this dominant narrative of fatherhood and motherhood.
Shane: "He was just a gift from God"
Growing up in Manenberg was not easy for Shane. As he holds his six month-old son, the joy he experiences in being a father is palpable. But so, too, is the pain of a difficult home and upbringing. "Manenberg is a rough place here in the Cape Flats. If you go looking for work, you say you're from Manenberg, people will say: 'no, no, no we don't want you, go back home'." Shane's father didn't treat him well and he wants to give Zuhair, his son, a better life. "I was there when he was born, I saw him come out. I even cut his cord. I had a big smile on my face when he came out, it was a nice experience. It is nice to be a father, especially when he begins to laugh. It makes my day."
In 2014 Shane joined the Sexual and Reproductive Health and Rights (SRHR) group, run by Sonke Gender Justice. He admits that initially it was hard to sit with other men talking about subjects that are normally personal. After a challenging first workshop, Shane says he decided to return. "I was interested. I enjoyed coming together as a group, learning about STI's, and learning about how to use a condom." "But I didn't use a condom," Shane says with a laugh. Of his son, he says with sincerity, "he didn't ask to come, he was just a gift from God."
Shane is determined not to be like his father, and regardless of his upbringing and the difficulties he has endured, he imagines a different future for his child. The workshops provided just a step in the process. He hopes that perhaps in the future, if you come from Manenberg and are looking for a job, people will say, "come in, we need more young men and women like you."
Elton: "I actually listen to my son"
"Last week my son rode his skateboard over to my house and told me that he had almost burned out because of excessive drinking and that his house had almost burned down because of a house fire next-door." As Elton, a father of two from Manenberg, South Africa shares this story, he is not angry or fearful but excited. For Elton, this story is a small example of the changing relationship with his 18 year-old son. "It brought back a communication for me and to my son, because he comes to tell me something, and he didn't do it before… he knew I was attending these classes; the peace that I was getting."
At 38 years of age, Elton is a recent graduate of the MenCare+ parenting class, and a soon-to-be grandfather. When he first heard about the class, he recalls, "I told myself, fatherhood and so forth, ya I need to take them. I thought, maybe when I go to that group it will give me a better thing to talk to my son about." For Elton, the class coincided with a breakup with his son's mother, and in it, he found some personal healing that he was seeking. "It gave me more understanding, to being a father," he says. "Maybe I was skipping out on my son, by trying to blame some things on his mother."
He smiles when recalling how he can now talk to his son about school and about his future plans. Elton hopes he can pass his training to his son, who will be a father any day now. "I feel like I also know how to be a grandfather. It has prepared me for that."
Brandon: "Now, if I go out of the door, my kids want to come with me"
"Most of the men don't want to talk about their fathers, because they were absent. The hurt is still there, and you can never take it back for all those lost years. I couldn't go to my father when I got hurt. I couldn't put my arms around him because he was never there." Brandon, 30, had a rough start. His mother drank and his father was a drug addict. He grew up under the care of his grandmother, but by the age of 16 he was involved in drugs and began a life in and out of prison. During this time he fathered two children with his partner, but was not present for either of their births. "I remember with my second child, it was on her birthday that she gave birth. That day I phoned her and she was in the hospital; she was giving birth, and then she just said 'I hate you.'
When Brandon was released from prison at the age of 27, he realised that he needed help and wanted to change the direction of his life. He wanted to show love to his children, but wondered how. He recalls, "How do I really become a father, how do I show love to my kids because I wasn't shown love from my own father?" His first step was enrolling in a domestic violence class with his wife. "We were under a lot of stress," Brandon says. "We were just married, we had two kids and there was no financial support structure for us." More time at home, however, meant more time with his kids. It was during this time that Brandon was invited to attend the MenCare+ parenting courses with Sonke Gender Justice.
The workshops inspired Brandon to become involved in his home life and in the lives of his children. Despite not having an involved father, Brandon says that, "the programme was teaching me how to be a father, and how to be a husband towards my wife. So I started to get more involved." Brandon smiles when he tells the story of his third child's birth, and how happy his wife was. "She was continuously asking 'is this really happening?' And I was there to support her. I went with her to every appointment to see how the baby is growing." Brandon continues, "from then on my life started to change. This programme started to change my mindset. It changed my whole being inside and out."
Despite missing out on the early childhood of two children, Brandon excitedly shares how being involved in cooking, washing, and cleaning has improved the bond with his children. "I had to do my part as well," he says. "And that created a space where I could spend more time with my kids. Now, if I go out of the door, my kids want to come with me because the bond is there."
Temilade: "The change must start from you"
Temilade first heard about Sonke Gender Justice when he attended a Red Card initiative for HIV/AIDS in 2010. Though interested in Sonke's programmes, he was too busy to attend and after three years, revisited the organisation in 2013. "You know in Africa we are socialised to put everything on the lady, the childcare must be on the wife or the woman. So, seeing this guy staying with the baby in the session, it inspired (those) guys, I wanted to tell them that ya, this is not actually new to me."
From the moment Temilade joined the MenCare+ Parenting workshops, he wanted to be a model for the other fathers, and when he speaks, you can tell how much he believes in the transformative power of engaged fatherhood. As he transitioned from a participant to a volunteer facilitator, Temilade was able to make more connections with men throughout the Cape Flats. Many of these men have been caught in a cycle of violence and Temilade believes that strengthening the family can have powerful effects. "I wanted to show the guys in the programme that you can actually have a really big impact on your children – that spending time with your children and with your family actually has the potential to get you out of drugs, or out of the gangs."
The biggest change for Temilade has been the new perspective that the MenCare Parenting group has brought. He began to realise all that his partner went through in taking care of their child, and all the little details that are so easily taken for granted – little details such as changing a nappy. "When you start multitasking, you realise the incredible amount of work that it takes to care for a child."
While Temilade respects what his partner does, he also recognises that the work of raising a child is also his to bear. "Sometimes we take it for granted; you expect that they are the women and it should just come naturally for them to take care of the baby. You need to see how much work it takes to be in that position. The programme helps you understand what you can do."
Temilade, now a volunteer facilitator for MenCare+, continues to stress the importance of modelling. "If I go to a workshop, and say to people, okay you must be close to your wife, you must help your wife, must do this for your children… people can see from you, the change must start from you."
Temilade proudly recalled the story of once being in the hospital with his wife and taking care of their son. His son had just soiled his nappy, and Temilade went to change him. "I remember that all eyes were on me… can he do it?" Temilade could feel the nurses and staff carefully watching, wondering if indeed this father had the ability to change a nappy. "They were expecting me to make a mistake," he recalls, "but I did it nicely because I am used to it. We are socialised to think that men can't do it."
Dieu-Merci: "Why am I doing this to my children?"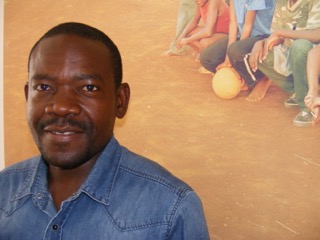 Halfway through the interview, Dieu-Merci breaks down as he narrates how he used to beat his wife and daughter with a belt. He says how he regrets the scars left on his daughter's body, how his wife would beg him not to beat them. During the MenCare+ Parenting training he found himself begging for forgiveness, "Bibiche, sorry," he says, "I know that I have been violent to you and to our children". Born in the Democratic Republic of Congo (DRC) 41 years ago, Dieu-Merci moved to South Africa with his wife in 2008 after they had been married for two years. In the DRC, he did not see himself as a violent man, but after his move to South Africa he says, "Violent behaviour came quick to me. Sometimes I would ask myself: 'Why?' But I think it was stress; sometimes you are not going to work but need to provide for the family."
He recalls that he would say bad things to his wife without remorse and shout at her for no reason, admitting that the presence of a crying baby only made things worse.
Because of socialisation, Dieu-Merci says that he never did any domestic chores, as these were considered women's duties. The man's role, he says, was to go out and look for money. Dieu-Merci also admits that he found no fault in a parent hitting his child or partner, because in his society, once a man pays bride price, he assumes the power to hit his wife.
For Dieu-Merci, it was during a module entitled 'My Father's Legacy,' that marked a turning point in his life. This particular module of the MenCare+ Parenting workshop allows participants to share experiences of how they remember their fathers. For Dieu-Merci, having been raised by a good father who was a peace loving man; this reflection immediately challenged his parenting skills. During the training, he asked himself, "Why am I doing this to my children?" He continues, "I wanted to change to be a role model for my kids, you must break the cycle of violence because your child will learn from you. My children will learn from me, so I should lead by example." He realised that he wanted to be more like his father.
Today, Dieu-Merci is proud of the relationship he has with his wife and kids. "We keep good communication, we sit, sort the problem out. My wife would say 'Dieu-Merci, you are a very good comedian, why were you hiding yourself'?" He adds, "Before, I was king of the jungle. I wanted to show them I was the head of the family. I thought no one is my friend. Now I can feel the change myself".
Instead of beating his children for being naughty, he now gives them advice. He also says he has been empowered to do the dishes and share the care work with his wife. He smiles as he talks about how his children cannot wait for him to be off duty so that he can take them to the park.
From a participant, he became a MenCare+ trainer and now he wants to take the work back to his community, where he will raise his voice and tell other men that change is possible. Dieu-Merci now wants to encourage men in the DRC to transform their violent behaviours. He wants to challenge men to stop rape and treat all women like their own sisters, mothers or daughters.
Ricardo: "I can talk about his behaviour towards his mother; I can talk about his anger issues."
As a Shop Steward for Sea Harvest Company in Saldanha, South Africa, one of Ricardo's jobs was to conduct drug and alcohol screening for those who were coming to work. Alarmed and frustrated by the high number of men under the influence of drugs and alcohol, Ricardo spoke with an HR Manager in charge of employment welfare programmes. They were eventually connected to Sonke Gender Justice and together, began attending the MenCare+ parenting workshop. Ricardo has two children, a son aged 16, and another who is 6 months-old. His first son comes from a broken marriage, and for much of his childhood Ricardo was not involved in his life. After spending one year in jail (the case was unresolved), Ricardo spent many months trying to get his life back in order. His wife and child had left him to start life on their own, and so Ricardo looked for new employment and a fresh start.
"When I came to Sonke, it was a point where I could scream and jump," says Ricardo. He says that after all he had been through, the workshop felt like a triumphant moment that buoyed his spirit. The change occurred on two fronts. Ricardo explains that at the workshops, "I could relate more to people here because these people are really struggling. I took a lot of stuff from them and learned a lot of things from them." The workshops opened up a space to feel some relief, and where he could reflect on his story and all that he had been through. It became a space for healing and understanding all that he had overcome.
Ricardo says that the relationship he had with his older son was, "more or less spoiling them, because I really didn't know what to do with them. It didn't mean anything, it was just kind of an act." After attending the MenCare+ parenting workshops, Ricardo says, "Now I can sit with my kid and talk about morals. I can talk about school work. I can talk about his behaviour towards his mother; I can talk about his anger issues." The workshop helped change Ricardo's mindset about the importance of father and child relationships. "I can have that relationship now. Now I see it, and the necessity of it."
Tim: "I am committed"
Like any five year-old boys, Tim's twin sons Tristan and Kirsten are full of energy. Though they don't live with Tim, he sees them almost every day and looks forward to the time he can spend playing with and caring for them. Tim admits that it was not always like this. Of the past he says, "I didn't spend much time with them because they were stressing me out, but now the patience is there." This patience Tim says has come from the MenCare+ Parenting classes he received from Sonke Gender Justice.
Tim, who has never been married and is originally from Saldanha, South Africa, has three children, but has separated from their two mothers. Originally Tim was not interested in the parenting groups and lamented giving up part of his Saturday free-time. He says that it was the excitement of a fellow co-worker, which finally persuaded him to join, and he is thankful for it. One of the most important lessons Tim learned, was how to control his emotions and understand his children in a more holistic way. "If you're a father or a mother, and you don't have patience with a child," he says, "then it's useless. That's one of the main things that strikes me." Tim says that the classes have taught him the principle of being patient and how to be a more supportive father. Though he rarely sees his youngest daughter Theolynn who lives further up the west coast, he can see great improvement with his twin boys who live across the street.
Tim reiterates that he believes in children being raised by both a loving mother and father; something that Tim did not have. Despite the lack of a positive father figure in his life, Tim says he is committed to his children knowing their father and having a mutual respect for one another. This includes the children that Tim is hoping to have with his fiancé. "My promise is to her," he says. "I wouldn't do what I did with the other girls; I left them for somebody else." Now he says, "I am more committed."
Dawie: "Teach your kid how to fasten his shoe laces, encourage them to go to school"
Married with three sons, Dawie has lived in Saldanha, South Africa since 1997. Though recently retrenched from his job at Sea Harvest, he has an upbeat attitude and warm smile. In 2015 he attended the MenCare+ parenting workshops that were provided to employees at Sea Harvest. Dawie recalled the enjoyment he found in a lesson entitled 'My Father's Legacy,' or in Dawie's case, his stepfather's legacy. He recalled his father hugging and kissing him, and how happy he was when he returned from extended work trips. Dawie says that while he hasn't adapted everything from his step-father, he has always tried to be a good father and husband. Despite this, Dawie says that there are many things he is working to learn and change in the way that he parents. As a respected Production Manager, Dawie describes himself at work as strict and fond of discipline. "I came home with that strictness and discipline that I used at work," says Dawie. "Whenever I was made angry, I would use that same tone." However, he continues, "this programme taught me that this was wrong. I can't bring my work home. I can't talk to my family in the same way. I have to approach them in a more acceptable way; in a more respectable way."
A "perfect dad," Dawie says, "is when you allow your child to become what he wants to be, and then to give guidance, and be there to support. To me, it is the small things." He continues, "Teach your kid how to fasten his shoe laces, encourage them to go to school; to do their best at school."
Of course, says Dawie, "this can be hard to put into practice." He recalls how hard it was to find out that his son and partner were going to have a baby, even though he was still young. He says that despite this, he is glad that his son could tell him, and be honest with him. "At the end of the day, they have to look up to me for guidance. When they need someone to talk to, I prefer that they talk to me about everything. So at the end of the day, they can respect me as their father, their friend, their advisor, their coach, their everything."
Acknowledgements
Interview Participants
We would like to thank the men who have shared their stories with us. We wish to thank them for their time, their bravery in sharing and for the examples they have set in their various communities. Your stories represent a glimpse into your lives, but offer so much hope that will continue to grow. Thank you for trusting us with your stories.
Manenberg Library
We are very grateful to the Manenberg Public Library and its staff for hosting us week after week. Thank you for offering us a clean and safe space where these interviews could be conducted. Thank you for your patience and for the service you provide to the Manenberg community.
Sea Harvest Company
As part of their Employee Wellness Programme, Sea Harvest Company hosted many MenCare trainings in Saldanha Bay, and they also hosted us during the interview process. We would like to thank them for connecting us to past participants of the programme and for their ongoing support throughout this time.
Compiled by Jeff Combe and Yvonne Jila