Vusi Cebekhulu, One Man Can Coordinator, is a family man, a Christian man and a man dedicated to making his country a better place. Before joining Sonke three years ago, Vusi worked with the Planned Parenthood Association of South Africa and the Reproductive Health Research Unit, and his passion for nurturing life skills in others has accompanied him throughout his life.
Working with people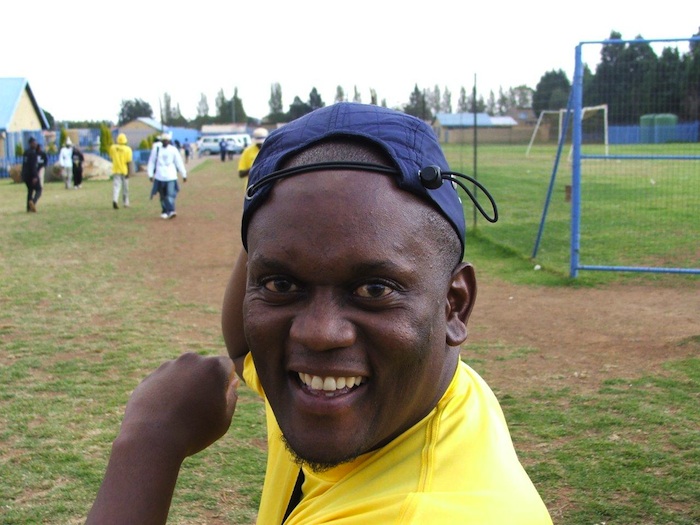 One of Vusi's great skills is working with others. For many years he coached soccer, and integrated life skills education with soccer training. In fact, Vusi was considering going professional when he decided, for a number of reasons, to continue with his studies instead. Many of his soccer proteges have gone on to do great things – some have families, some are teachers, and Vusi is a proud ex-coach.At home, Vusi is the tiny minority in terms of gender, as the only man in the family – Vusi has a female partner and four youngsters in the home… who are all girls! He loves to spend quality time with the whole bunch.
However, life for Vusi, as for us all, has had its share of ups and downs. Vusi had a life-changing experience when his wife passed on some years ago. "I've lost a mother; I've lost a father, but it's different when you lose a partner," he says. "But I managed to pull through and pick up the broken pieces and I'm still here, I'm still standing." Although it was a difficult experience, Vusi is someone who loves to grow and develop life skills, so he sees it also as a learning curve, and is proud that he's "still standing."
One of his life's greatest accomplishments is ongoing. Vusi is a pastor and member at a church that, according to him, is based on traditional attitudes. These attitudes sometimes play out in gendered ways, creating an environment where women cannot always express themselves freely. However, Vusi has increasingly become involved with the church's leadership in changing the way certain things are done, especially with regard to gender transformation. He believes, "we are all equal before God."
Vusi at Sonke
At work, Vusi is responsible for co-ordinating Sonke's Community Radio project, which seeks to improve the quantity and quality of radio broadcasting on gender and HIV, and to engage men and boys in promoting gender equality and preventing the spread of HIV and AIDS. He spends a lot of time travelling to community radio stations across the country, setting up relationships with the stations and local community organisations. He provides training both to radio stations staff and partners on gender and HIV, how to discuss gender and HIV on air, and how to develop radio shows on these topics. He regularly appears as a radio guest, drawing on his extensive experience as a trainer and dialogue facilitator to engage listeners on topics as diverse as addressing the stigma associated with HIV and how to support a survivor of sexual violence.
We thank Vusi for all his contributions to the organisation so far, and look forward to what the future holds for Sonke's radio project, and for our friend and colleague Vusi Cebekhulu!