TRANSFORMATION OF JUDICIARY
More than four years after Sonke and the Democratic Governance and Rights Unit filed a complaint on the slow transformation of the judiciary, the Commission for Gender Equality has published a response acknowledging that not enough is being done to foster gender transformation.
PRISON REFORM
"I didn't read about it, I experienced it," says one former detainee present at the historic court victory on 5 December 2016 in which the Western Cape High Court found the conditions in Pollsmoor Remand unconstitutional. BBC World Service's Africa Today interviewed former detainee, Thandisizwe Mashwau and Ariane Nevin, National Prison Specialist for Sonke Gender Justice. [Photo by Masixole Fene]
GENDER-BASED VIOLENCE
The stated aim of the Liquor Amendment Bill 2016 is to reduce the harms of excessive alcohol consumption, so why has increased taxation – one of the most effective public policies to deal with excessive alcohol use – not been included?
GENDER-BASED VIOLENCE
Rape and violence have become so normalised in South Africa that a documentary about a woman who was abducted, raped, disembowelled, almost completely decapitated, left for dead, and yet miraculously survived, is considered "boring", writes Sonke's Marike Keller in The Daily Maverick.
POSITIVE PARENTING
Ground-breaking progress has been made in recent weeks on the Labour Law Amendment Bill, which we're confident will allow for parental leave of 10 days, adoption leave of 10 weeks (from moment of placement) and the adoption of gender-neutral language. Good news for men, women – and children.
GENDER-BASED VIOLENCE
"Women are abused in taxis – there are so many cases. But to iron out these problems, we need to come together," said Edward Motale, former taxi driver and owner and Trainer for Sonke Gender Justice, at the recent launch of the Safe Ride campaign video at the Nana Sita taxi rank in Pretoria.
SILICOSIS
For decades, women in rural South Africa have shouldered the burden of caring for mineworkers who return home with silicosis contracted on South Africa's goldmines. The mining companies must pay long overdue compensation to the workers, widows, children, and communities they impoverished, writes Sonke's Dean Peacock.
GENDER-BASED VIOLENCE
Of those men, 60% said they had done so several times over the past year. The recently released findings from Sonke and Wits School of Public Health's SONKE Change Trial, revealed shocking rates of gender-based violence in the peri-urban settlement in Johannesburg. These levels of violence represent a state of emergency for victims and survivors of this violence.
Some strands of feminism are adamant that men should never call themselves feminists. However, Marlise Richter, writing in the newly launched Huffington Post SA, strongly disagrees.
"It is important that I am seen as a human being first rather than a woman," Nonhlanhla Skosana, Sonke's Community Education and Mobilisation Manager, Gauteng on her passion for gender justice.
Born in the DRC and now working as a senior trainer for Sonke's Refugee Health and Rights Portfolio, Micheline Minani Muzaneza reveals the moment she decided to dedicate her life to pursuing social justice.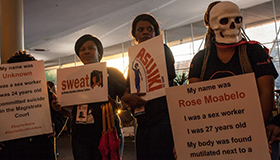 Sex worker and activist, Zoe Black recently experienced first-hand the violence that all South African's fear, but those who live in informal settlements are most susceptible to.
THE CONVERSATION
"Slipped among its 95 pages is clause 24, which empowers traditional councils to enter into partnership agreements with any person, body or institution with no obligation to obtain the consent of, or even to consult, the people whose land rights and lives are the subject of such partnerships."
COLORLINES
"It's easy to rape in a place of chaos, easy to drag kids and women into a shack and rape them and hide them away in the mess of Diepsloot."
BHEKISISA
"Even where post-exposure prophylaxis is available, health care workers are often not trained to deliver services beyond clinical care. Survivors often do not receive appropriate psychosocial support and are seldom referred for this service."