XENOPHOBIA
In the wake of the recent wave of xenophobic violence in South Africa, Sonke's Gadeeja Abbas tells the story of Lionnel Drench who fled the conflict in Congo Brazzaville, only to find his suffering continue in Cape Town. In this video published by TimesLive, he opens up about the murder of his brother, Massiossio Souka Hoven Romeld who, along with Lionnel was attacked on 25 February 2017.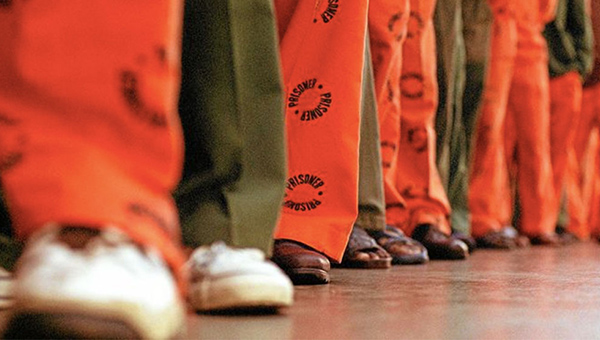 PRISON REFORM
Following the High Court decision in December 2016 directing the Department of Correctional Services to immediately address the 'deplorable' overcrowding in Pollsmoor Remand, and the subsequent shuffling of sentenced inmates to other provinces, overcrowding in the facility for those awaiting trial is the lowest it's been in the past five years – roughly 174% of its approved capacity. This is a significant victory for remand detainees. However, much more remains to be done, writes Sonke's Ariane Nevin in the Mail & Guardian.
GENDER-BASED VIOLENCE
When President Zuma outlined the government's priorities for 2017, Sonke noted that there was almost no attention paid to violence prevention, and responses to violence in South Africa, with no reference at all made to HIV or gender-based violence. In order to remedy this, Sonke's Marike Keller drafted the SONA address we wished we'd heard from our President. It was published by the Daily Maverick.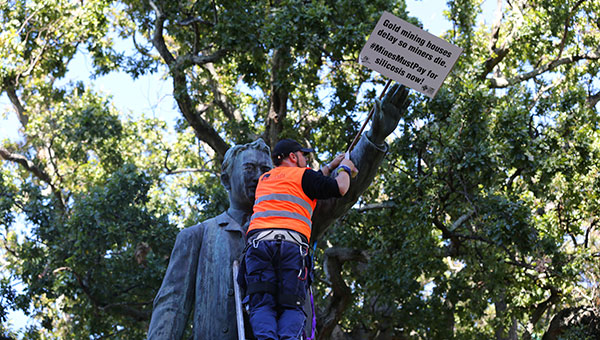 SILICOSIS
On Wednesday 8 February 2017, as thousands of mine industry executives gathered at the Cape Town International Convention Centre for the Invest in Africa Mining Indaba, Sonke Gender Justice protested in front of the Cecil Rhodes statue in the Company Gardens, Cape Town. Our aim was to tell a different, fuller history and call on the gold mining industry to acknowledge their role in the epidemic of silicosis, an incurable lung disease resulting from the inhalation of toxic silica dust.
HATE CRIMES
The Prevention and Combating of Hate Crimes and Hate Speech Bill currently before the Department of Justice and Constitutional Development, is a highly contested piece of draft legislation and has generated a large amount of debate. While Sonke celebrates the drafting of explicit legislation that recognises hate crimes, we are opposed to the criminalisation of hate speech in this Bill, writes Sonke's Zia Wasserman.
Launch of the Safe Ride Campaign in Cape Town
Sonke, leaders from the South African National Taxi Council and taxi operators gathered at the Gugulethu taxi rank on Thursday February 16 to raise awareness about the Safe Ride campaign and encourage those in the industry to take responsibility for their passengers, particularly women.
On 9 March 2017 Sonke and the My Period is Awesome campaign visited Gugulethu Comprehensive Secondary School to increase awareness of gender equality amongst young girls and boys and handed out reusable sanitary pads to more than 100 pupils.
Nicolette Naylor, Regional Director for Ford Foundation Office for Southern Africa: "Keep asking yourself, are you doing the work you are doing because it is safe, you have always been doing it, or are you doing the hard work of creating, failing, testing and trying new ideas in an unpredictable and messy space full of tension?" Read her inspiring letter and our full annual report
here
.
On Thursday 23 March 2017, Sonke will be taking over the Twitter account of
Lead SA
from 10am to 12.30pm. We will be discussing the issue of gender-based violence in South Africa and how individuals, civil society and government can work together to eliminate GBV – and create gender equality in South Africa and beyond. Follow us for more details and join the conversation!
SPOTLIGHT
"South Africa is one of the first countries to have a sex work-specific plan in the form of the South African National Sex Worker HIV Plan 2016-2019, and it specifically endorses decriminalisation. There is much to be proud of – but it is not yet enough."
DAILY MAVERICK
"When black miners became noticeably ill, they would either be shipped out or repatriated, before another migrant laborer was subbed in. This informal policy of not properly compensating black miners continued unabated and unquestioned for years."
THE ECONOMIST
"Brown Lekekela dreads the end of the month. Payday means binge drinking. Violence follows. Women turn up battered and distraught at his gate, usually with small children in tow."