This article was originally written for Pretoria News
Who says women can't do it?
From humble beginnings working as a secretary to taking a seat as a chief director in the highest office in the land (the Presidency) to occupying an executive position at Adcock Ingram Healthcare, Doreen Kosi has worked her way up the corporate ladder. Kosi grew up in Annshaw location in Middledrift, Eastern Cape, as the eldest of three children. She was left in the care of her aunt Elbrona (Somnci) Tyali while her single mother Mavis (Nomthunzi) Tyali sought employment in Port Elizabeth.
Kosi says this is the woman who taught her to respect education, as it is a key to life. Elbrona also taught her the importance of independence and respecting her body as a "temple".
After completing her studies, she got her first job as a secretary to a factory's managing director in Dimbaza. Kosi then moved to the University of Fort Hare as a library assistant, and a year later got promoted to become secretary to the dean of the faculty of science, winning the Eastern Cape Secretary of the Year award in 1992. She later relocated to Gauteng in search of better opportunities. Kosi chuckles as she remembers attending graduation ceremonies at the university and vowed that one day she would be up there receiving her degree.
In 1996, Kosi found herself in a new province, new city, new job, a new title, on her own with no family support – but she persevered because she had a dream.
She began as an assistant director to the then national director-general, Professor Chabani Manganyi. A psychologist by profession, he brought out the best in her. Under his teachings, she became the best she could be and landed the post of private secretary to the then education minister, Professor Sibusiso Bengu, who taught her humility and propelled Kosi's career forward.
She became a private secretary to then deputy president Jacob Zuma (from whom she learnt the value of ubuntu) in 1999. That position marked the beginning of her 14-year journey in the Presidency. Kosi is proud that in her time at the Presidency, she served four deputy presidents with professionalism and dedication. The Presidency also helped sharpen her inter-personal, management and leadership skills.
Kosi took her personal development seriously, because she understood that to stay relevant and effective, she needed to sharpen her intellectual capacity and diversify her skills. So she acquired qualifications in public relations, community relations, labour relations and a master of management degree in public and development management through the Witwatersrand University Graduate School of Governance in 2009.
She participated in the General Electric CEOs Programme at Crouton University in the US in 2009 and is currently doing a course on women in leadership through Wits Business School.
The turning point for Kosi was when she realised one should not only to be effective at work, but also be there for one's children. She remembers how her own mother, Nomthunzi, sacrificed her future for her (Kosi) That's when she resigned from the public service for a top job at Adcock IngramKosi believes that in life, "Make choices, commit to them; live with the consequences".
Every day mothers, grandmothers and sisters toil the soil, working for hours, days, years – often non-stop – pouring their hearts and sweat into what they feel needs to be done. I salute them.
This year Community Investment Holdings (CIH), a company of which I am the founding chairperson, celebrated its 20th anniversary.
From our start in 1995, we have carved a diversified industrial holding group out of nothing. Our marching song was "Forward ever, backward never."
What we achieved in these 20 years is nothing short of a miracle. But more importantly, it illustrates that where there is a will and determination there will be progress.
Through my work at CIH, I believe that apart from education, what holds back women's entry into the management league is attitude. Women still set their sights too low.
Some women lack confidence and do not take risks, preferring not to challenge situations they could easily master, for fear of failure or criticism. Most do not see themselves as winning, but helping others to win.
That is why CIH has always been about building up women to be more productive, and able to raise the next generation and their communities. I salute Adcock Ingram for the role it played in the health sector. It understands that as we get empowered, sitting on the throne of economic influence and strength, we need to touch the lives of many. As women we want a fair slice of the main economy and to be accorded respect in our communities.
As we mark the 60th anniversary of the historic 1956 Women's March on the Union Buildings against pass laws, let us salute those heroines for their pioneering role. Now we are beacons of light for gender equality and women's empowerment Let us teach ourselves to never feel inferior, never compromise our abilities, and to make resilience our best friend.
Be strong-willed amid challenges, but remain authentic and humble. Be resilient and tenacious, diligent and work with integrity.
Dr Anna Mokgokong is Afrocentric Group chairwoman.
Lucy Peter: "You don't have to have a near death experience to change your attitude… live life and appreciate those who matter I Achieve your dreams I It starts with me #mrscwsa2016.
I was born and raised in the South Coast town of Sezela, KZN. I lost my dad at the age of 14. I was the oldest of four siblings and my mother had no formal qualification. I excelled academically but couldn't afford university and attended Springfield College of Education on a bursary, where I qualified as a teacher.
My grandmother and mother were my source of motivation and inspiration. My faith and prayer anchor me and navigate me through life.My favourite motto is by Maya Angelo "When you learn – Teach; When you get – Give."
I admire women in leadership, who make a difference in our communities and have not let their circumstances hinder them. I believe in becoming the best version of oneself. In 2012, I had a pulmonary embolism – a wake-up call on the brevity of life. You don't have to have a near death experience to change your attitude and life!
I am Boitumelo Ntsoane, born and bred in Atteridgeville. I graduated as a pharmacist from Rhodes University I have a worked in several industries over the past 16 years in the pharmaceutical sector of which the past nine years has been in running my own business.
I have conquered great adversity and challenges to make it a success. I come from a humble background which grounded me – and a mother who gave me a foundation of good principles.
I knew from a young age I wanted to leave a legacy. I knew there was a better life beyond the four-roomed house I grew up in. I spent my youth in church.
Integrity and absolute commitment is crucial in all you do. I challenge any limitations and refuse to surrender to defeat I have envisioned the future I want for myself and rely on God to guide my steps. I never settle for mediocrity.
I am attracted to humble woman in control and am currently drawn to Suzanne Ackerman. To the woman who gave birth to me, my mother, I salute you; my late grandmother who raised me, I know you are looking over me.
I am Professor Fhumulani Mavis Mulaudzi. I was born in the rural areas of Muduluni Ha-Kutama in Limpopo. We played a game called Maseketane where we created stories using stones.
That game assisted me to visualise and construct my future. I realised my potential and it helped me become the leader and a visionary I am today.
I am the chairwoman of the School of Health Care Sciences and a head of a department of nursing science at Tuks. I am also the chairwoman of the Forum of University Nursing Deans in SA.
My career started in Venda Nursing College at a time when it was difficult for black nurses to access University education. I also studied via Unisa where I obtained my doctoral degree in nursing. I juggled my studies with the upbringing of my three children.
My research interest is in women's health, indigenous knowledge systems (IKS), ethics and human rights. My mother inspired me and taught me that education and knowledge are weapons to conquer the world. She also inculcated in me the caring ubuntu philosophy.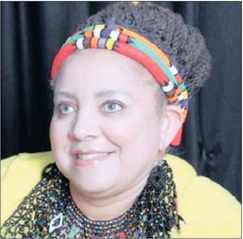 My name is Elizabeth Taylor. I am 43. I was born in Soweto and raised by my grandmother. I now work in the office of the chairperson of the National Energy Regulator (Nersa) Before that I worked at the Presidency, Minerals and Energy Department, Airports Company of SA and the Department of Education (District).
My mother died when I was 1 year and five months; my father went missing – during the apartheid era – in 1977 when I was 4. My grandmother was working as a domestic worker with a meagre salary but she gave me the best gift ever – education.
My grandmother died in 2009 with a very sore heart as she did not know where her son was and if he was still alive or dead.
I would have loved to be something in life – maybe an inspiring woman like Phumzile Mlambo-Ngcuka (Under­ Secretary-General of the UN) as she is the woman I look up to.
She values other women and does not want to see women failing. She always puts women first.
Nonhlanhla Skosana is a community, education and mobilisation unit manager at Sonke Gender Justice. She focuses her efforts on talking about gender-based violence and its prevention.
"For me, Sonke is a platform where we can talk to men about these issues and say to those who aren't perpetrators that they can't turn a blind eye; their silence means they are taking part in violence against women."
Skosana focuses on men, talking about gender-based violence, equality and prevention.
"Being an activist means you are the voice for the voiceless. You can't be an activist just when things are fine. You have to be on the streets, fighting the battles for those in need."
One of the projects she's working on is Amathuthuzela – a one-stop service space for rape survivors. Sonke is working with 23 community radio stations to promote these centres through a radio drama called Thuthuzeleka.
"It's important to talk to men about how they can support victims of sexual violence."
For a long time, Phindile Sithole-Spong, 27, felt judged because she was born HIV-positive.
When she revealed her status she would endure painful break-ups. But then she made a decision enough is enough. HIV need not define you.
"Telling somebody for the first time that you're HIV-positive and the reactions they go through. When to tell them… how to tell them7 The trauma that you impose on them and the trauma that you impose on yourself… waiting for the right time".
Today she is engaged and says her partner was at first taken aback when she disclosed her status on their very first date. But three years later, in a happy and lively relationship, she could not be happier. "We complement each other. There is no one I have as much fun with. Being HIV-positive doesn't mean you cannot date people who are not It is possible to have a healthy relationship and a great sex life."
While she feels it is not her duty to make people feel comfortable around her, she is very involved in HIV education, mainly for corporates.
Mpho Ngozi (nee Dipheko).
My strengths are drawn from my mother Margaret Dipheko, and my life in which I had difficult times having to live in a shack while I was in high school at Tsogo in Mmakau outside Pretoria. Riots and finances meant I could not finish at TUT but started working at a law form in Joburg when I was 20.
I was recommended to an NGO funded by USAid to facilitate bursaries for South African students. I moved to Turfloop as PA to the deputy vice­ chancellor, Professor. Muxe Nkondo, a dedicated educator and academic, before moving back to Gauteng and a position at the Independent Broadcasting Authority (now lcasa) where my mentor was Lyndall Shope-Mafole.
I became assistant private secretary to Thabo Mbeki when he was deputy president and president.
Women are hard workers and therefore, let us support each other.
Women are powerful and no one can take the power from them because the power was given by God and not man made.
I am Octavia Ephraim, the founder of OCTAPEAR Image Consulting Firm. I offer extensive professional services to executives, entrepreneurs and church leaders. I have been quoted in numerous newspapers and magazines on image matters. I'm also the producer and host The Octavia Ephraim Show, broadcast weekly on Elev8TV (mobile TV).
In 2009 when I got involved with the Mrs United Nation competition, I wanted to represent a cause. I came across human trafficking and took action, so being an activist is personal.
My philosophy: Do what you can in your own power and let God take care of the rest! Who inspires me?
1. My grandmother –She was strong, giving and nurturing her family, in-laws, community and church. She lived Matthew 516. She taught me to pray, to love unconditionally, to respect others and to forgive.
2. Nkosazana Dlamini Zuma – She embodies the possibilities of South African women (you and I), earning global recognition. I salute you Zimbokodol.
My name is Mbali Mahlangu. I am a supply chain manager at a leading pharmaceutical company in SA. I am an industrial engineer by qualification, having studied BSc (Industrial Engineering) at Wits University.
I have done postgraduate studies with the Wits Business School mainly focusing on leadership development Currently I am completing a postgraduate diploma in industrial engineering with Wits. I believe in continuously advancing and developing oneself, especially in this fast­ changing era to always reinvent oneself.
I am married with two kids. I have two sisters. We were brought up by two most amazing women, my late grandmother and mother. They taught us that no situation should define us nor define the path we wish to follow.
Through them, I learnt early on in life that through faith, positive thinking, hard work and commitment, one cannot go wrong. Coming from Orange Farm, but having a dream and a vision, I succeeded against all odds, knowing that God guided me. Moments shouldn't define us; we should define the moments.
Kerry Kalweit, 25. I am finishing my Masters in clinical research at the University of Pretoria, and am also third­ year Medicine student at Wits. I have been living (and thriving) with Type 1 diabetes since 2004. My diagnosis led to my work as general manager for a non­ profit organisation called Youth With Diabetes (YWD) YWD aims to empower children, teenagers and young adults with knowledge, skills and confidence to live happy, healthy lives with diabetes.
Education is empowering – it's an eye-opener that allows your ambitions to grow with the increased awareness of what is possible to achieve.
This is exactly what people living with chronic conditions need: confirmation that their dreams are still in every way possible, perhaps just with some support.
One of the most influential women in my life is Sr Hester Davel, YWD co-founder. Her passion to help others is infectious, yet humble, while gently challenging others to reach their potential. She helped me to find my life's purpose – to specialise as an endocrinologist to help diabetics.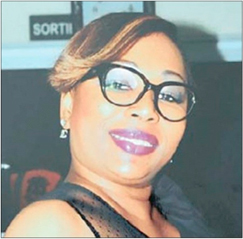 My name is Djenaba Bathily. I am a global marketing and communications expert I've lived in several countries on the continent – I'm a big fan of Africa!
I am a proactive, creative and passionate self-starter. When I get a shell of a business or project, I always put "meat on the bones" and make it attractive and profitable.
I like empowering and mentoring people, especially women because I believe we are the foundation of society.
My philosophy is to give the best to life because it is simply so precious and also… so fragile!
The woman who inspires me most and is my role model is Fenda Bathily, my late grandmother. She was phenomenal. Despite not being formally educated, she displayed very high levels of intelligence and knowledge.
She had an impressive capacity to analyse many topics, including politics. She always exuded an "aura" of strength, dignity, peace and love. I also admire Oprah Winfrey because of how she rose above her circumstances to become so successful.
My name is Dr Namane Magau. From the experiences I gained as an executive director I now serve on several boards as a director, and management consulting.
I hold a doctorate in education from Harvard University and served on the Board of Harvard Educational Review for two years during my studies.
Over the years I have been involved in development of women leadership and research through various roles as president of BWA that initiated the first Census on the Status of Women in Corporales in South Africa, comparing their status with that of womenin other countries. As president of IWFSA we also initiated studies in five African countries to establish the role of women in the economies. Currently I am working with the University of Pretoria on initiatives to promote research for women economic empowerment My philosophy is this:
A more human and prosperous world depends on all of us.
The women who continue to inspire me are my late mother, grandmother, Charlotte Maxeke, Joan Joffe and Dr Nkosazana Dlamini Zuma.
I am Yolisa Mdiya, born in the Eastern Cape and I have been called to serve.
I am a social change agent and I believe I have been called specifically to counter patriarchal structures that continue to hinder the success of black young girls in South Africa.
I work as a provincial fieldworker at the Soul City Institute.
Corporate South Africa has really shown me that patriarchal structures still exist in this day and age.
I want to guide those who come after me to continue the work and hopefully work together towards a nation that promotes the abilities and capabilities of women.
I have always drawn my strength and inspiration from my mother.
She is the one who continues to empower other women beyond her job description.
What makes me woman is symbolised not only by my womb, but also my strength.
As a woman I was born to create and birth. I believe my empowerment is the empowerment of a nation.
Kavitha Kalicharan has more than 14 years industry related experience and has for the past three years been managing a small PR agency called Taurus Communications.
Kavitha also held the position of vice­ chairman for the Gauteng region for two years and has been the chairman for the past two years of this company.
Kavitha also facilitates on various disciplines of PR for PROVOX, the Centre for Communication Management
This year, she was also privileged to be nominated as one of the judges for the World Public Relations Forum that took place in Toronto in Canada in May.
As a thought leader in the industry, Kavitha is highly rated by her colleagues and held in high standing throughout the industry.
She is in high demand and is asked to speak at various functions throughout the country.
Kavitha has been requested to make presentations at many conferences.
Her expertise has also secured her invitations to address various workshops during the past three years.