COVID-19 has presented new challenges to all of us. In the recent past we have had to quickly adapt to new ways of doing our work. Despite the challenges we are so excited to share with you our latest newsletter.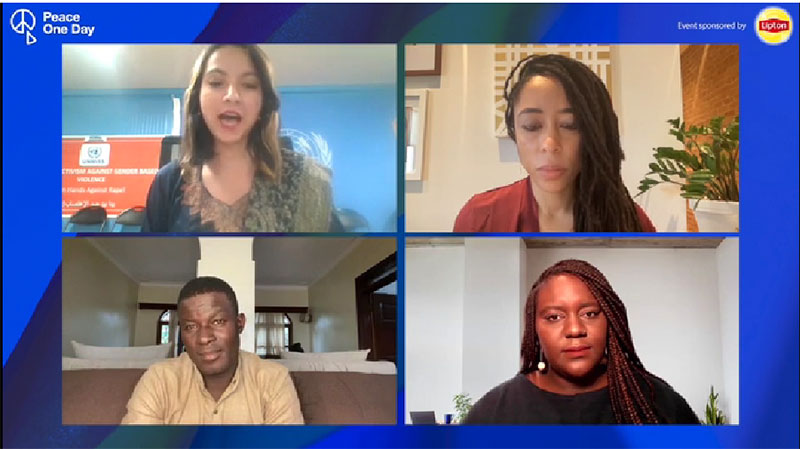 Masana Mulaudzi at Anti-Racism Live 2022
Masana Mulaudzi, our Programme Director, took part in the Anti-Racism Live 2022 event, which was organised by peaceoneday.org/Main in collaboration with the Office of the United Nations High Commissioner for Human Rights. The event comprised of panel discussions, key interviews, live action moments, music, and words of peace will be streamed live from the Peace One Day HQ in London. The event, which was free to watch on Peace One Day's website and @PeaceOneDay on Twitter, provided a forum for Anti-Racism Live 2022 participants to address the racial discrimination that has unfortunately been observed in the current conflict in Ukraine and other wars around the world.
Bafana Khumalo participates in a virtual observance of International Women's Day and Human Rights Month
Sonke's Co-Director and Co-Founder Bafana Khumalo took part in an exciting panel discussion organised by the Soul City Institute for Social Justice to commemorate International Women's Day 2022 and Human Rights Month. The webinar's topic was "What are strategies and tools we use to reimagine a world where patriarchal practices are challenged and dismantled?" Take a look at how he responds to some of the questions posed to him here.
Dropout prevention strategies in schools: What do they look like?
According to the recent NIDS-CRAM data, up to 750,000 students dropped out of school during the COVID-19 pandemic, which is roughly three times the pre-pandemic level. Given Sigauqwe, our Communications & Strategic Information Unit Manager, spoke with a panel of experts on Twitter spaces about preventative measures of school dropouts, specifically the benefits of having male role modules for young boys and Sonke's community mobilization project.
Sonke Gender Justice and MenEngage Africa hosted two side events at the 66th Commission on the Status of Women (CSW66)
The Commission on the Status of Women (CSW) held its sixty-sixth session from March 14 to March 25, 2022. (CSW66). The theme of CSW66 is "Achieving gender equality and the empowerment of all women and girls in the context of climate change, environmental, and disaster risk reduction policies and programs." Sonke's sessions took place on March 16 and 24, 2022, and we were joined by a stellar panel of activists, thinkers, and policymakers working with male engagement to address harmful norms and promote gender equality, as well as address shifts in the world of work and care work.
"There is a need to strengthen the justice service in order to maintain public confidence:"- Mpiwa Magwiro-Tsanga
Mpiwa Magwiro-Tsanga, Regional Advocacy Specialist at Sonke Gender Justice, joined Newzroom Afrika, DSTV channel 405, on the 10th of February 2022 to discuss gender-based violence in the country and expectations ahead of President Cyril Ramaphosa's State of Address after several bills were signed into law. SONA2022 is an abbreviation for Sonata on the Sea of Mpiwa also addressed the issue of lack funding for COS that work to end gender-based violence and those who shelter victims or survivors of gender-based violence.
Sonke Gender Justice and MOSAIC Training host multi-stakeholder dialogue
In commemoration of the International Women's Day, Sonke Gender Justice and MOSAIC Training, Service & Healing Centre (MOSAIC) hosted a multi-stakeholder dialogue under the theme; 'From Policy to Accountability: Challenges and Opportunities in addressing Intimate Partner Violence'. The dialogue took place at Capital Melrose, Melrose North, Johannesburg on 08 March 2022.
Alcohol: the deadly accelerant
The scourge of gender-based violence and femicide (GBVF) is ongoing. What do we need to do differently to be more successful in the fight against GBVF and make the country a safer place for women and girls? One of the hard realities brought to the fore by the Covid-19 pandemic is the relationship between the harmful use of alcohol and interpersonal violence. According to research presented by the South African Medical Research Council (SAMRC) in July 2020, trauma admissions pre-Covid-19 lockdown were approximately 42 700 per week across 350 public hospitals in the country. Of these, 40% (17 000) were alcohol-related trauma incidents, most of which were the consequence of interpersonal violence and road traffic incidents……
Sonke Gender Justice commends the removal of Albert Fritz, the Western Cape Community Safety MEC, from office following allegations of sexual assault
Sonke Gender Justice welcomes Premier Alan Winde's decision to remove Albert Fritz from his position. This comes after an independent investigation into allegations of sexual misconduct, allegedly against young women recruited to work in his office was completed. We learned earlier this year that Albert Fritz, the Western Cape Community Safety MEC at the time, stepped aside after employees levelled serious allegations of sexual assault against him. Sonke congratulates Advocate Jennifer Williams on her prompt investigation into sexual misconduct allegations levelled against Western Cape community safety MEC Albert Fritz. The evidence points to a pervasive culture of sexual objectification of women in the ministry, supported by an undeniable power imbalance. This is why Sonke believes this is not an isolated incident. We hope others who may have been exposed to this toxic culture may be emboldened by this to also come forward.….
Sonke Gender Justice launches its #UnderTheBlankets campaign:refugees' and migrants' access to sexual health in South Africa
In the run up to Valentine's Day, Sonke Gender Justice launched a new campaign on migrants' and refugees' rights to access sexual and reproductive health services in South Africa. Our #UnderTheBlankets campaign encourages anyone – South African or not – to visit a webpage and read about how they can access government sexual and reproductive health services in South Africa. The campaign also seeks to remind healthcare workers that everyone in South Africa, regardless of nationality, has a right to access reproductive healthcare.
Civil society organisations (CSOs) are dealing with the dual challenges of keeping their organizations operating, while also responding to the needs of the communities they serve. These grassroots organisations embedded within local communities, have direct access to vulnerable groups, are trusted by local communities and authorities, and can get assistance to those who need it quickly and effectively, yet the pandemic has triggered a funding crisis for CSOs when they are needed most. They are unable to access funding because they don't have the operational systems in place to meet many donor compliance mechanisms, and they struggle to professionalise their operations because they don't have access to the necessary funding. Many grassroots organisations also don't have the resource mobilisation capacity or technical expertise required to engage funding, while many donors are unwilling to fund capacity building initiatives or other core operational costs.
In recognition of the need to strengthen the organisational capacity of national and local CSOs, to build the networks and movements needed to achieve systemic change, the GBVF Response Fund has awarded Sonke Gender Justice grant funding of R10 214 501 for a two-year period from 2022 to 2023.  The Fund is a part of a national response to gender-based violence and femicide in South Africa.  The GBVF Response Fund has been established as a first step in a holistic approach to coordinate financial and non-financial resources to support relevant programmes and campaigns that will raise awareness, lead to mass action and result in behaviour change.
Through this grant, Sonke will provide sub-grants to CBO sub-grantees for them to implement specific project activities, and these sub-grants will be accompanied by a structured organisational development plan that aims to strengthen both the operational and programmatic capacities of the sub-grantees, and ensure they have the capacity to coordinate, implement, scale-up and apply evidence-based approaches to their work.  
Sonke Gender Justice extends our gratitude to the GBVF Response Fund for their investment in our capacity building of CSOs in response to gender-based violence and femicide.
Sister Mhaka: Working with patients from other countries
Watch Sister Mhaka as she speaks about her role as a nurse in a busy clinic in Cape Town – where 85% of the patients are foreign nationals. She helps patients – wherever they are from. Foreign nationals have a right to access primary healthcare, just like anyone else. This video was made for Sonke Gender Justice as part of the #UnderTheBlankets campaign, which raises awareness about refugees' and migrants' access to healthcare in South Africa. Find out more at genderjustice.org.za/undertheblankets
MEA Policy Advocacy Strategy on Engaging Men to End FGM
Rights, action and accountability
Side-lined: Experiences of sex workers throughout the lockdown
Analysis of the criminal records expungement process in South Africa
Fund, Respond, Protect, Collect: A Desktop Review of the legal and policy frameworks that address gender-based violence in Africa
Evaluation Report of the MenCare 50:50 Programme implementation in Free State South Africa 2019-2020
Sonke has been following guidance from our government and the WHO by adhering to the COVID-19 precautionary measures, including mandatory working from home across the organization. We apologise upfront for any delays in responding to your emails as we at Sonke are committed to the wellbeing of our staff and fully understand their responsibilities in terms of childcare and caring for vulnerable family members and family members affected by Covid-19.
 To report an incident of sexual harassment, bullying, abuse or any other form of harassment experienced, seen or heard about, or an incident of fraud, corruption or bribery: CALL the toll-free whistle-blower hotline: 0800 333 059, or SMS: 33490, or email: sonke@whistleblowing.co.za
Sonke does not tolerate sexual harassment, bullying, abuse or any other forms of harassment.